Perfect Breakfast Option – Wheat Puttu
You're missing out on what is arguably the best breakfast of the day. When your eyes are still droopy and your brain is still foggy, there's nothing like a warm and filling breakfast to turn things around. What you eat for breakfast can set the tone for the rest of your day. Breakfast being the most important meal of the day, only the finest quality raw materials are used to ensure that your breakfast is always perfect, with the right consistency and great taste.
Why settle for regular puttu or steamed cake when you can have delicious and soft Priyom Wheat Puttu instead? You get more of that healthy, soft, and delicious puttu in an easy method.
We care about you, which is why we're here to save you time and effort by offering the perfect Wheat Puttu Podi. We started with the vision to produce high-quality products using a selection of the finest ingredients. Our products are processed under the most hygienic conditions with state-of-the-art equipment. Over time, we have built a strong distribution network and honed in on our customers' tastes and preferences, allowing us to grow significantly since our inception.  We at Priyom are committed to excellence in making the best quality products and delivering complete customer satisfaction.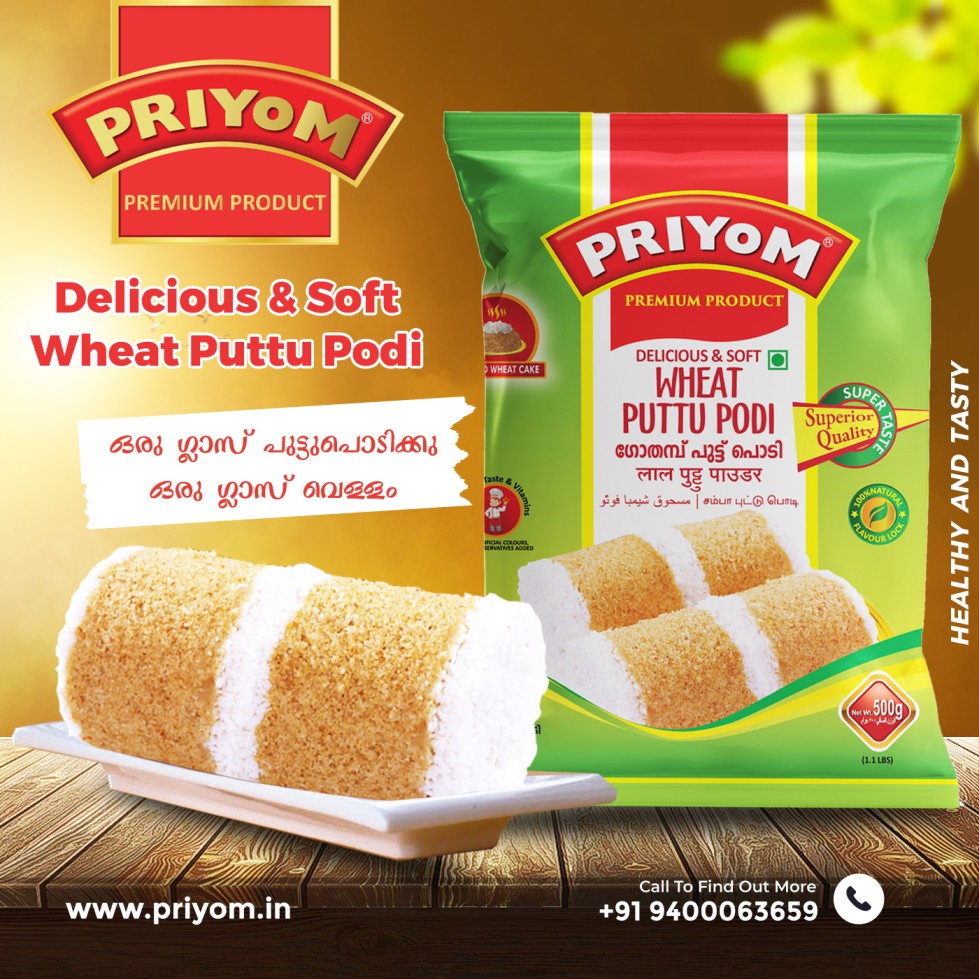 Considering how much time, effort, and health our mothers put into making a perfect wheat puttu, we've made the process much easier for you. With our setup, you can make a soft wheat puttu easily by following the formula:
 1 glass wheat puttu podi + 1 glass water = soft and delicious wheat puttu
We've ensured that you'll never have to go back to the days of making wheat puttu being a tedious process.
Best Combinations with Wheat Puttu:
Wheat Puttu + Banana
Wheat Puttu + Egg Curry
Wheat Puttu + Chicken Curry
Wheat Puttu + Beef Curry
Wheat Puttu + Fish Curry
Wheat Puttu + Honey
Wheat Puttu + Kadala Curry
Wheat Puttu + Pappadam + Green Gram/Black Chickpeas Curry
The perfect breakfast! My all-time favorite is the Wheat Puttu and Chicken Curry combination. What's your favorite combo with wheat puttu? Let us know in the comments!
Also to get more insights on this please visit our website priyom.in 
and check out our YouTube video: https://www.youtube.com/watch?v=_eZNkcxpiR0
We're always looking for ways to better serve our customers and live up to our tagline: "Mothers' No.1 Choice."
Celebrating The Flavors Of India